MEET & GREET with CEO CITILINK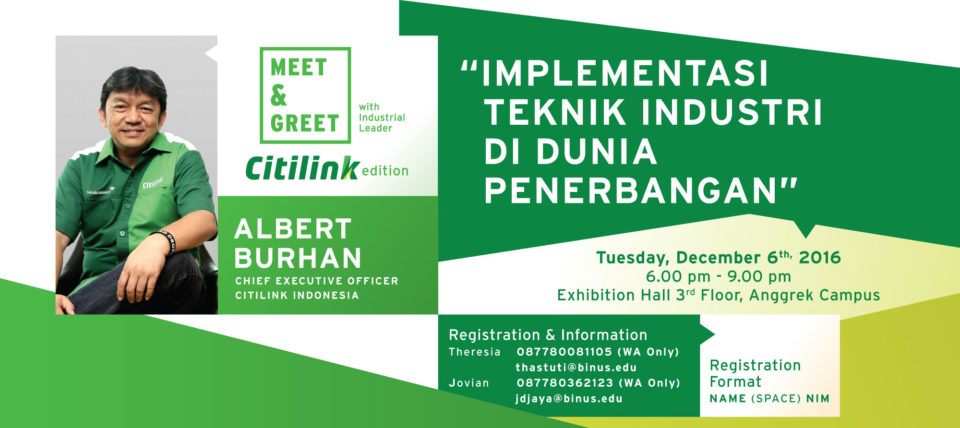 We cordially invite you to:
---
Meet and Greet with Industrial Leader
Which will be held on: 
December 6th, 2016
(Tuesday)
06.00 p.m – 09.00 p.m
Exhibition Hall, 3rd Floor, BINUS University Anggrek Campus
Jalan Kebon Jeruk Raya No. 27, Jakarta Barat
---
Registration : Free of Charge by Reservation Only
 (A limited number of reservations are available)
---
Topic:  Implementasi Teknik Industri di Dunia Penerbangan
Speaker: Mr. Albert Burhan – CEO CITILINK
During this event participants will:
Get Free Certificate (non students of S2 program and BINUS only);
Expand professional network;
Have the opportunity to ask questions about the topics;
Be provided with an overview of the BINUS Graduate Program that includes specific program goals, objectives, and methodologies
---
We are hoping you will take some time to come to the Meet and Greet with Industrial Leader on December 6th, 2016. Please register if you are planning to attend by emailing us.
In the meantime, should you have any questions, feel free to contact me at
021-53 69 69 69, 53 69 69 99 ext. 1148, 1149
We would highly appreciate your cooperation in disseminating this invitation within your organization so it may reach your colleagues who might also benefit greatly from this event.
---