BINUS GRADUATE PROGRAM Hadirkan Program Studi Baru Master of Strategic Marketing Communication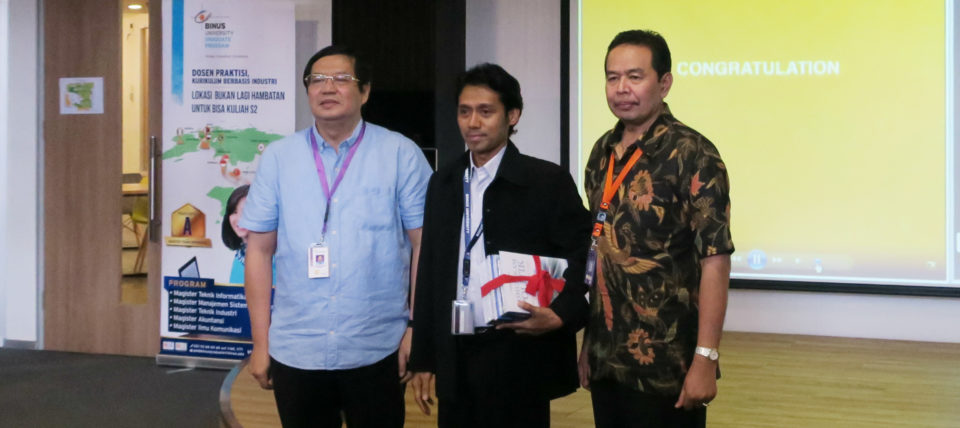 Jakarta, 31 Maret 2017 – Seiring dengan perkembangan zaman serta semakin ketatnya persaingan di dunia kerja saat ini, membuat BINA NUSANTARA (BINUS) melalui BINUS GRADUATE PROGAM sadar akan kebutuhan pembekalan diri dengan penguasaan ilmu komunikasi, organisasi, manajerial, media dan digital communication. Untuk menjawab kebutuhan tersebut, maka melalui BINUS GRADUATE PROGAM  membuka Program Studi Master of Strategic Marketing Communication dengan peminatan Integrated Marketing Communication yang terintegrasi dari dua tujuan yaitu Bisnis dan Digital yang disebut Integrated Marketing Communication (IMC).
Pembukaan program studi baru Master of Strategic Marketing Communication ini dilaksanakan pada 30 Maret 2017 di Auditorium BINUS fX. Pada pembukaan ini berlangsung pula seminar yang mengangkat tema mengenai "Konsep & Stategi Komunikasi Bisnis di Era Digital / Konvergensi Media". Seminar ini menghadirkan dua pembicara kenamaan dari praktisi komunikasi, antara lain: Rahmat Edi Irawan selaku Vice President of Service NET TV dan Triari Senawirawan selaku Senior Vice President, Head of Marketing & Digital Ecosystem DBS Indonesia.
Kegiatan ini dihadiri oleh para undangan yang merupakan insan yang sudah berkecimpung di bidang komunikasi dan sebagian besar sudah berada pada level manajerial dari berbagai perusahaan serta para alumni BINUS UNIVERSITY yang memiliki ketertarikan untuk melanjutkan pendidikan S2 Ilmu Komunikasi di BINUS UNIVERSITY.
Dengan launchingnya Program Studi Master of Strategic Marketing Communication dapat menjadi pusat studi bidang ilmu komunikasi, khususnya Master of Strategic Marketing Communication untuk meningkatkan potensi diri melalui kemampuan teoritis dan praktis sehingga dapat memiliki keahlian yang kompetitif baik secara nasional maupun internasional, serta dapat menghasilkan pemimpin atau manager dan ahli di bidang Marketing Communication atau Corporate Communication, jelas Dr. Muhammad Aras, S.Pd.,M.Si. selaku Head of Program Master of Strategic Marketing Communication, BINUS GRADUATE PROGRAM.