INFO SESSION BINUS GRADUATE PROGRAM @ BAHRAIN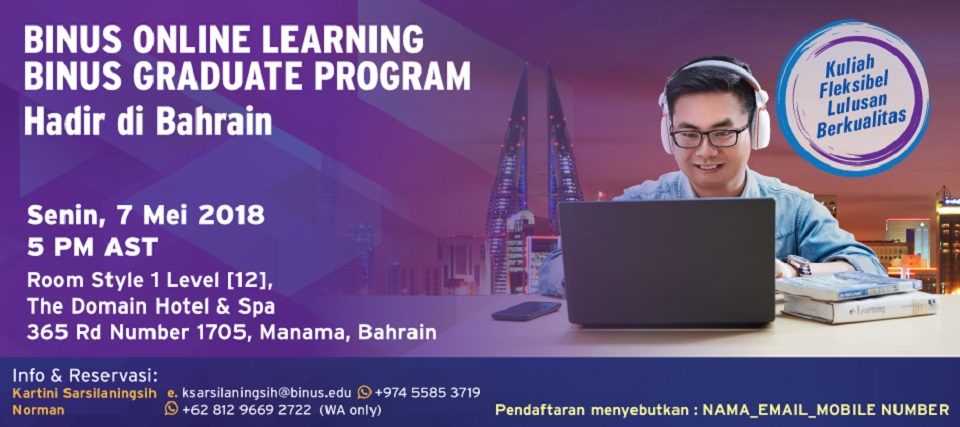 BINUS GRADUATE PROGRAM sebagai salah satu institusi pendidikan terkemuka di Indonesia, dengan reputasi dan kualitas pendidikan yang terpercaya, memperkenalkan  program pendidikan S2: Magister Teknik Informatika (MTI), Magister Manajemen Sistem Informasi (MMSI), dan Magister Teknik Industri (MTD). Melalui kurikulum berbasis ACM (Association for Machinery) dan IEEE (Institute of Electrical and Electronics Engineers) serta program studi pertama di Indonesia yang bekerjasama dengan IBM untuk mengembangkan mata kuliah IT Services dan Services Oriented Architecture, BINUS GRADUATE PROGRAM berkomitmen untuk memberikan kualitas pendidikan yang bermutu bagi para mahasiswanya.
Sesuai dengan komitmen ini, BINUS GRADUATE PROGRAM akan menyelenggarakan Info Session di Bahrain pada:
Senin, 7 Mei 2018
7 – 9 PM AST
@Room Style 1 Level (12)
The Domain Hotel & Spa
365 Rd Number 1705, Manama, Bahrain
Ikuti Info Session pengenalan program S2 Online BINUS GRADUATE PROGRAM dan segera daftarkan diri Anda.
Klik tombol di bawah ini untuk daftar!