BINUS DOCTOR OF COMPUTER SCIENCE MENYELENGGARAKAN 11TH ASIAN CONFERENCE ON INTELLIGENT INFORMATION AND DATABASE SYSTEMS (ACIIDS 2019)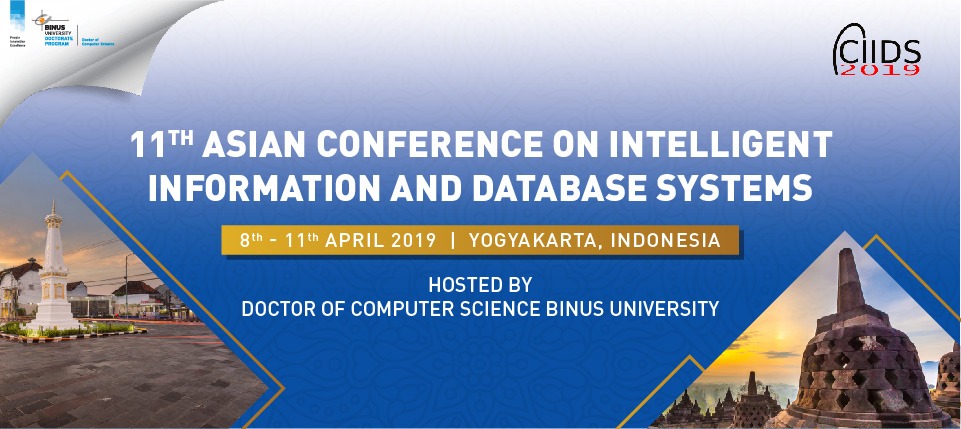 Yogyakarta dikenal dan dijuluki sebagai kota pelajar serta memiliki berbagai keunikan budaya. Melihat berbagai keunikan yang ada di kota ini, BINUS Doctor of Computer Sciencemenyelenggarakan 11th Asian Conference on Intelligent Information and Database Systems (ACIIDS 2019) pada 8 – 11 April 2019 di Hotel Royal Ambarrukmo Yogyakarta, Indonesia. ACIIDS 2019 merupakan konferensi ilmiah internasional untuk penelitian di bidang sistem informasi dan basis data yang cerdas. Database cerdas ini di tujukan ke sistem cerdas nya yang menggunakan database tersebut dimana data yang mengalir di proses secara real time dengan menggunakan Artificial Intelligence sebagai pusatnya. ACIIDS adalah kegiatan yang diadakan oleh Benua Asia dan sejak ACIIDS berdiri Negara-negara di Benua Asia ini merupakan penyelenggaranya. Konferensi internasional ini akan dihadiri dari berbagai universitas yang terdiri dari 28 negara Eropa.
Konferensi rutin yang digelar tahunan ini akan dipublikasi dan diterbitkan di Springer LNSC yang sangat prestisus. ACIIDS 2019 bertujuan untuk menyediakan forum secara internasional untuk penelitian ilmiah dalam teknologi dan aplikasi informasi cerdas dan sistem basis data serta publikasi yang digunakan untuk membangun industri dan juga akademisi dalam konteks riset dan publikasi. Konferensi ini diselenggarakan oleh BINUS Doctor of Computer Science (DCS), Indonesia dan University of Science and Technology, Poland serta bekerjasama dengan IEEE SMC Technical Committee on Computational Collective Intelligence, European Research Center for Information Systems (ERCIS), University of Newcastle (Australia), Yeungnam University (Korea), Quang Binh University (Vietnam), Leiden University (Netherlands), Universiti Teknologi Malaysia (Malaysia), Ton Duc Thang University (Vietnam), dan Vietnam National University, Hanoi (Vietnam). Prosiding ACIIDS 2019 akan diterbitkan oleh Springer dalam seri Catatan Kuliah di Inteligensi Buatan LNCS / LNAI.
Dalam ACIIDS 2019 tentunya banyak pengalaman yang dibagikan melalui kolaborasi riset dan publikasi studi banding dengan berbagai kampus kenamaan. Semoga dengan adanya ACIIDS yang berlangsung rutin ini  dapat menghasilkan kolaborasi riset dan publikasi kelas global yang pastinya akan mengangkat nama BINUS Doctor of Computer Science dalam kancah internasional, ujar Ford Lumban Gaol – Deputy Head of Doctor Computer Science Program.