ACIIDS 2019 MENJADI AJANG PUBLIKASI BAGI MAHASISWA BINUS DOCTOR OF COMPUTER SCIENCE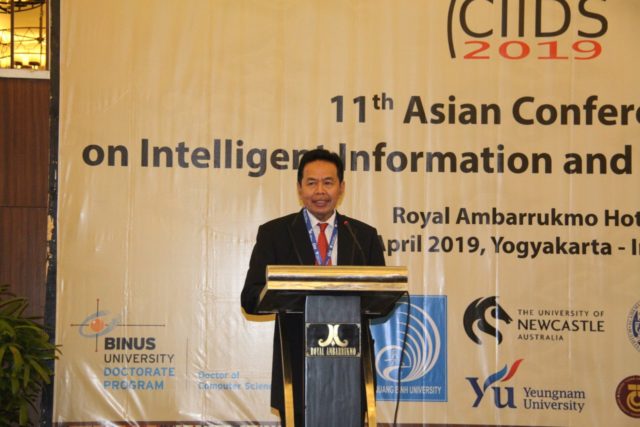 Yogyakarta, 10 April 2019 – 11th Asian Conference on Intelligent Information and Database Systems (ACIIDS) 2019 yang diselenggarakan oleh BINUS Doctor of Computer Science yang bekerja sama dengan Wroclaw University, Polandia. Konferensi internasional ini akan berlangsung selama empat hari berturut-turut mulai dari (08/11) hingga (11/04) di Hotel Royal Ambarrukmo, Yogyakarta dan akan dihadiri dari berbagai universitas yang terdiri dari 35 negara yang ada di Asia dan Eropa.
ACIIDS merupakan kegiatan rutin tahunan yang diselenggarakan bergantian di negara-negara ASEAN. Sesuai namanya acara ini bertujuan untuk memfasilitasi peneliti-peneliti dalam mempublikasikan karya ilmiah mereka (jurnal), khususnya di bidang teknologi informasi dan database.
Director BINUS Graduate Program, Prof. Edi Abdurahman menyatakan bahwa BINUS Doctor of Computer Science sangat bersyukur menjadi penyelenggara konferensi tingkat internasional ini karena sangat bermanfaat bagi para dosen dan mahasiswa BINUS Doctor of Computer Science. Di ACIIDS 2019 ini mahasiswa BINUS Doctor of Computer Science mendapatkan kesempatan untuk mempresentasikan ide-ide dari penelitian yang telah mereka lakukan selama mengikut perkuliahan di BINUS dan juga mereka mendapatkan masukan lewat sharing knowledge dari para expert yang hadir dalam ACIIDS 2019 ini.
Bagi BINUS sendiri dengan adanya kegiatan ACIIDS 2019 memberikan exposure international bagi BINUS untuk lebih dikenal lagi oleh kampus-kampus yang ada di negara lain, serta membuka peluang kerjasama BINUS dengan kampus-kampus di berbagai belahan dunia yang hadir di ACIIDS 2019.